If you want to look after your skin, you need to know how to tell your skin type and what each of the different skin types means for your skincare routine. Here, we take a look at two different skin type tests and examine how you can identify and treat dry, oily, combination, normal and sensitive skin. 
Skin Type Test
 – 
How to Tell Your Skin Type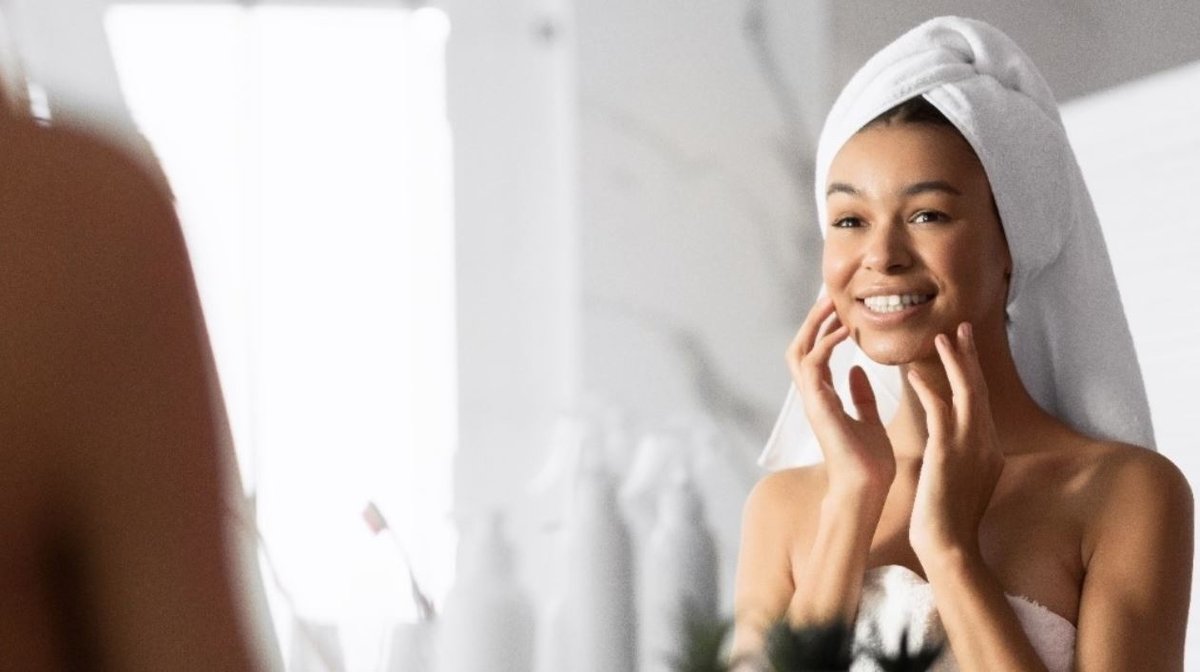 Most people will have an intuitive understanding of what skin type they are. We can often feel whether our skin is oily, and we generally know when sensitive skin reacts badly to a particular skincare product, pollution or a lack of care.   
However, taking a skin type test gives you concrete evidence to back up your instinct. It can also help give you an idea of how oily, dry, or sensitive your skin is. 
Blotting paper
skin type test
The blotting paper test is one of the best ways to distinguish between different skin types and is particularly useful when it comes to differentiating dry from oily skin.
This test involves three quick and easy steps. They are: 
Gently pat a piece of blotting paper on the forehead, nose, cheeks and chin. Use a different part of the paper, or different sheets of paper, for each part of the face

 

Hold the sheet(s) up to the light

 

Study the results – If there is relatively little oil across all of the parts of the face tested, you have dry skin. If you find more oil on the forehead and nose area, you have either normal or combination skin. If all the tests are saturated in oil, you have oily skin

 
Bare-faced
skin type test
The bare-faced skin type test is a little more time consuming but generally returns accurate results. Trying both tests can be a good way of ensuring your results are on-target. The bare-faced test involves the following steps: 
Cleanse the face with a mild cleanser and then gently dry. Use no other skincare products, e.g. serums and moisturisers

 

Leave for 30 minutes. Once half an hour has passed, look in the mirror. Try and see whether there's any shine to your nose, forehead, cheeks or chin.

 

Leave for another 30 minutes then check against results. If your nose and forehead are shiny, you have normal or combination skin. If there is a shine to your cheeks and chin too, you have oily skin. If, when you smile or move your face, your skin feels taut or tight, you have dry skin

 
Skin Type 1: Dry Skin
Characteristics of dry skin
The principal characteristics of dry skin include the following: 
Skin that feels tight or stretched, particularly when you smile or make certain expressions

 

Itchy skin or parts of the face feeling irritated throughout the day

 

Rough, rugged or flaky skin

 

Skin that feels sensitive to temperature changes

 
Dry skin is caused by a diverse array of factors, including genetics, climate, diet, lifestyle and any hormonal changes you may be experiencing. It's also important to remember that dehydration is a common cause of dry skin – so make sure you're drinking plenty of water!  
Dry skin tips
As we've mentioned, dry skin is caused by a range of factors. Consequently, you may need to try a few remedies, ruling out causes as you do, before you strike upon the right solution. With this in mind, we'd recommend working through the following five tips. 
Hydrate regularly – hydration is key to healthy skin, so make sure you've always got a

water 

bottle to hand

 

Look for hydrating ingredients – certain skincare ingredients, such as jojoba beans and almond oil are excellent moisturisers. Try and choose skincare products that include these ingredients

 

Moisturising face washes – some face washes can really dry out the skin. Try using a moisturising face wash, like the 

Moisture Burst Facial Wash

 to ensure you retain some moisture on the skin

 

Hyaluronic Acid – Hyaluronic Acid binds to water molecules and makes your skin look hydrated and dewy.

 So check out products like the 

Supercharged Hyaluronic Face and Neck Crème

, which include Hyaluronic Acid as an active ingredient

 

Moisturise – When you've got dry skin, you need to provide it with as much hydration as possible, so moisturise, moisturise, 

moisturise!