Firming body lotions promise to remedy sagging skin and cellulite – but do they work? While there are no miracle formulas that reverse inevitable signs of ageing, some body butters do boast moisturising, firming, and toning ingredients that can make a visible difference to skin's texture and overall appearance.
Why Does The Skin Sag?
After the age of thirty, the body naturally begins to produce less collagen and elastin, two proteins that are responsible for skin's firmness and elasticity. An increasing amount of cellulite (or small fat cell deposits) settles under the surface of the skin, causing it to sag and small dimples to appear.
Do Firming Body Lotions And Butters Work?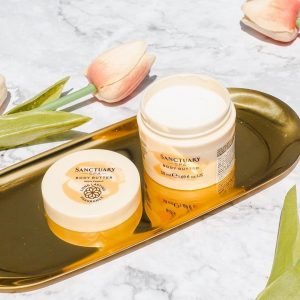 It depends largely on your expectations. A firming body lotion can't penetrate into the deeper layers of the skin and re-organise the connective tissue to reverse the signs of ageing. However, they can improve the look and feel of skin. Formulated with active and nourishing ingredients, body butters:
Boost collagen production to increase elasticity, making the skin more supple
Break up fatty acids to reduce the appearance of cellulite
Strengthen the epidermis, providing an instant tightening effect
Moisturise dry cells and improve the overall appearance of skin
Applying a firming body lotion every day will help skin to look plump, firm, and evenly toned.
Spa Tip: Massaging a body butter into the skin using upward circular motions will naturally increase blood flow and reduce toxins in the body. Over time, this will help to sculpt the skin, giving it a smooth appearance.
Which Ingredients Help To Firm Skin?
Whether a firming body lotion works or not is largely due to its formula. Here are some of the ingredients to look out for:
Caffeine: By stimulating blood flow, caffeine increases the oxygen levels in the skin, in turn increasing collagen production. It's the perfect antidote for firmer and smoother-looking skin.
Antioxidants: By fighting against free radicals and reducing inflammation, antioxidants help to prevent and improve visible signs of damage and ageing, including fine lines, wrinkles and sagging skin.
Peptides: Peptides (the building blocks of elastin and collagen) promote the production of these proteins to thicken skin and improve elasticity.
Coconut, cacao and shea butter: These rich, natural butters nourish the skin to make it appear firmer, plumper and healthier.
Which Are The Best Firming Body Lotions And Butters?
We offer an array of body butters that will improve the appearance and texture of skin.
A pampering blend of collagen-boosting Peptides, Cocoa Butter, Sweet Almond Oil and Macadamia Nut Oil, this butter wraps the body in waves of skin-plumping, buttery goodness. Massage generously into skin to plump, firm and restore tone.