After gaining popularity in Japan and South Korea, the double cleansing method has made its way over to Europe – and it's the simplest yet most effective way of caring for your skin. Keep reading as we explain what double cleansing is and how to double cleanse …
What Is Double Cleansing?
The double cleansing method is the process of using two cleansers (one after the other) to rid the skin of impurities. Suitable for all skin types, double cleansing is especially beneficial for oily and acne-prone skin.
Typically, the first step requires an oil-based face wash, while the second uses a water-based cleanser. Using an oil-based cleanser first removes impurities from the skin, including makeup, dirt and excess sebum. The water-based cleanser then works to nourish, soothe and wash away remaining traces of dirt and makeup to create a clean base for the next steps of your skincare routine.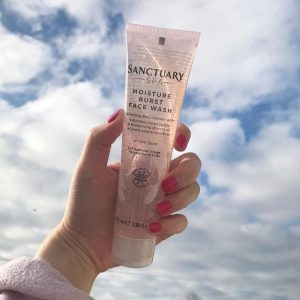 Benefits Of Double Cleansing
Adding the double cleansing method to your nighttime routine helps to refresh and rid the skin of impurities, particularly if you wear a full face of heavy makeup or are prone to oiliness and congestion. With continued use, double cleansing helps to brighten skin and create a more youthful, radiant complexion.
How to Double Cleanse
Step 1: Cleansing oil
Start by using an oil-based cleanser to rid the skin of makeup, dirt and excess sebum.
We recommend our Melt Away Cleansing Oil which boasts a nourishing blend of oils and cleansing actives:
Jojoba Seed Oil boasts moisturising, antibacterial and antioxidant properties that rid the skin of impurities, while hydrating and protecting it too.
Orange Flower Oil improves the clarity, radiance and smoothness of the skin, creating a youthful glow.
Lavender Oil has natural antibacterial and anti-inflammatory properties that help to calm the skin.
Start by pumping the Melt Away Cleansing Oil into your hands and massage over a dry face. Add a few drops of warm water and continue massaging into the skin until the silky oil transforms into a nourishing milk. Rinse thoroughly with warm water and pat dry.
Therapist's Tip: If you're using the double cleansing method to rid skin of excess oils, try using our Warming Charcoal Detox Wash instead. Formulated with purifying Charcoal and calming Chamomile Oil, it helps to draw out impurities, unclog pores, reduce shine and remove excess oil for a smoother and clearer-looking complexion.