You've no doubt heard that a skincare routine should focus on 3 key steps: cleansing, toning and hydrating. Well, to really improve the look and feel of your skin, there's a fourth step to include: serum. Not sure what face serum is or how it fits into your routine? Keep reading, we explain everything below…
What Is Face Serum?
Let's start with the basics: what is face serum? Powerful and easily absorbed, a face serum is a lightweight hydrator that helps to treat specific skin concerns, including dryness, wrinkles, dullness, and dark circles.
It works alongside moisturiser to improve the look and feel of your skin.
What Are The Benefits Of Face Serum?
Think of serum as your skincare treatment. While moisturisers hydrate the surface of the skin and create a protective barrier to lock in nutrients, face serums have light yet highly concentrated formulas that can penetrate the skin and treat from the inside out.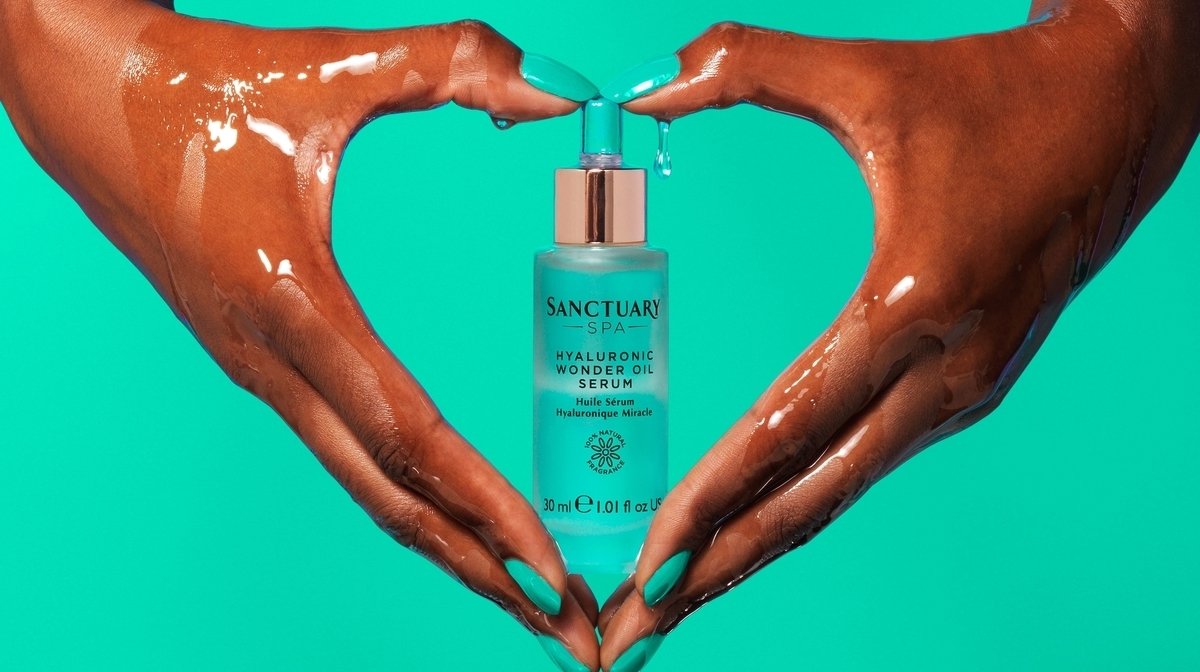 Whatever skin concern you're struggling with, there's a serum out there to help.
How To Apply Face Serum
To make the most out of the mighty formula, apply serum onto clean, dry skin after cleansing and toning. Massage into the skin, wait 90 seconds to allow it to absorb fully, then follow up with your favourite moisturiser or night cream.
We recommend using serum morning and night for healthier-looking skin.
What Serum Should I Use?
The best face serum for you depends on your skin type and concern.
Buy now

with Sanctuary Spa

When it comes to treating fine lines and wrinkles, nothing beats an anti-ageing serum. Opt for formulas with antioxidants and hydrating ingredients (like Hyaluronic Acid) that help to reduce the signs of ageing, while improving skin's plumpness and elasticity. 

We recommend using our Hyaluronic Wonder Oil Serum. While Hyaluronic Acid keeps skin looking hydrated and healthy, Red Rice Bio-ferment and antioxidant-rich Pomegranate Seed Oil restore and rejuvenate skin cells to reduce the appearance of fine lines and boost elasticity. Expect skin to look healthier and plumper, and feel softer and smoother with each use.

Buy now with free delivery

Buy now

with Sanctuary Spa

Serums can also work wonders for tired-looking eyes, helping to brighten and revive the skin. Look for serums with hydrating, radiance-boosting and anti-ageing ingredients (Hyaluronic Acid, Peptides and Caffeine would all do the trick nicely) that help to reduce the appearance of dark circles under eyes.

We recommend using our Power Peptide Awakening Serum. This eye serum blends Hyaluronic Acid with Caffeine and our Peptide Matrixyl Synthe™ complex to help stimulate the production of collagen, for plump, hydrated and brighter-looking under eyes. Apply before your face serum to visibly transform the look of tired eyes, wrinkles and dark circles.

Face toner helps to rebalance the skin after toning and primes for the next steps of your routine.

Follow our advice to experience the transformative abilities of oil-based skincare.

Discover the benefits of exfoliating your body to achieve beautiful, glowing skin. 

Buy now with free delivery